https://www.independent.co.uk/news/world/asia/indonesia-dogs-cats-killed-blowtorch-alive-street-markets-cages-sulawesi-a8364011.html?utm_term=Autofeed&utm_campaign=Echobox&utm_medium=Social&utm_source=Twitter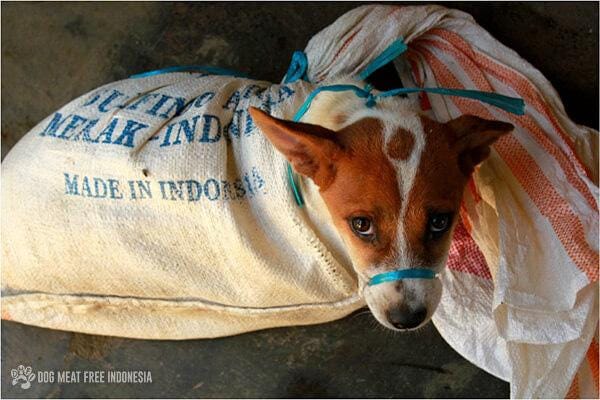 Dogs and cats are being blowtorched alive and repeatedly bludgeoned over the head with bats in squalid street markets in 
Indonesia
 to supply 
market stalls, slaughterhouses and restaurants
, an investigation has found. 
The creatures were filmed with their mouths taped shut so tightly they could hardly breathe before they were butchered. 
Stuffed into cages or sacks, they first see their cage-mates lifted by the neck with noose sticks and smashed on the head before it's their turn.
Pyeongchang restaurants refuse to stop serving dog meat
Many are still alive and conscious while a blowtorch is applied to them, up and down their bodies, to remove the hair before they are cut up and used for food, according to a campaign group which documented the treatment. 
The practices were revealed in an investigation by the Dog Meat-Free Indonesia (DMFI) during nationwide investigations at two of an estimated 200 traditional animal markets in North Sulawesi province on the island of Sulawesi.
The group believes thousands of animals each week are taken and killed this way, the equivalent of 1 million a year.  
However,  Wendy Higgins of Humane Society International, one of the campaign's charity members, believes the figure is likely to be much higher.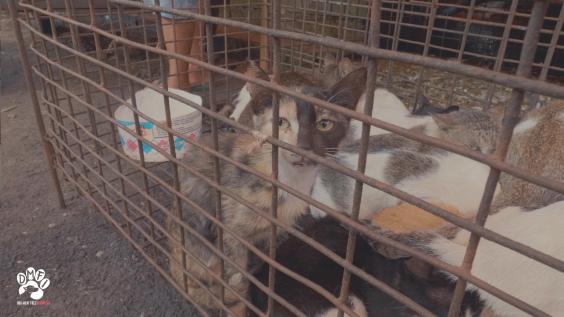 It's thought up to a quarter of the animals involved are cats (DMFI)
More than 90 celebrities, including Dame Judy Dench, Cameron Diaz, Piers Brosnan. Ellen DeGeneres, Simon Cowell, Kate Beckinsale, Elizabeth Hurley, Ricky Gervais, Moby, Leona Lewis, Courteney Cox, Alfie Boe, Lucy Lawless, Brian May, and Tyrese Gibson, have signed the letter to the country's president Joko Widodo calling on him to clamp down and enforce animal-protection laws. 
"These animals, many of them stolen pets, are subjected to crude and brutal methods of capture, transport and slaughter, and the immense suffering and fear they must endure is heartbreaking and absolutely shocking," they wrote. "The footage is deplorable, and clearly documents the routine use of brutal handling and killing. We are sure you will agree that the level of brutality towards these dogs and cats is shocking and demands your urgent attention."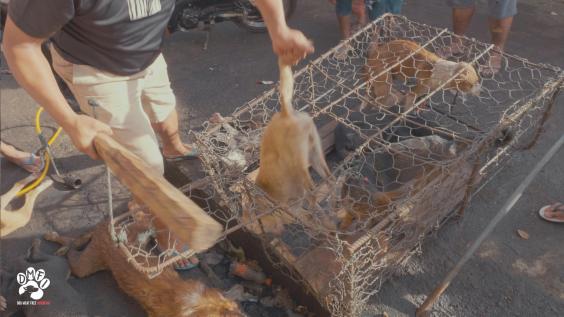 Animals are bludgeoned with bats (DMFI)
They added: "Despite only a minority of Indonesians ever consuming dog meat, the trade in dogs for consumption threatens the health of the entire nation. The dog meat trade is the only trade known to encourage the large-scale, illegal movement of dogs of unknown disease and vaccination status… The World Health Organisation has explicitly highlighted the trade in dogs for human consumption as a contributing factor to the spread of rabies in Indonesia."
Activists have also warned that the illegal and unregulated trade does not only inflict intense suffering, but also poses health risks to the people who eat the meat, in part because cramming so many animals together in sacks and cages increases the spread of rabies.
#chiens
#cruauté
#maltraitance
_________________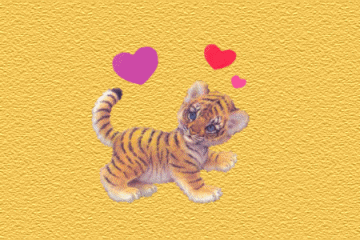 Choupi91 - "Le monde pourrait vivre sans tuer ni animal ni végétal (MONOD Théodore extrait de: Livre de Théodore)"

Choupi91

Administrateur/Fondateur




Nombre de messages

: 101628


Age

: 56


Localisation

: Essonne


Date d'inscription :

31/05/2006

Action dans la PA


Description

:




Sujets similaires
---
Permission de ce forum:
Vous
ne pouvez pas
répondre aux sujets dans ce forum